DISTRIBUTOR DISCOUNT PRICE LIST HERE
Phillips Scientific's ePTFE Joint Sealant is manufactured at the Rock Hill, SC facility from 100% Virgin expanded PTFE. It is interchangeable with other leading brands,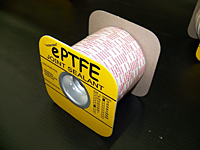 available in sizes: 1/8″, 3/16″, 1/4″, 3/8″, 1/2″, 5/8″, 3/4″ and 1″, and in Standard or Bulk Lengths. It has a full pH Range of 0 to 14 (except for fluorine and molten alkali metals), and it is fully compatible with petroleum products. The temperature range is -450 to 600oF, allowing use in a wide variety of environments.
  We offer the lowest prices in the industry as with comparable sized joint sealant, and with our large inventory, we are able to ship 95% of our orders the same day. Spools are generic Labeled (Phillips' name is not on the spool) to protect your marketing efforts. No minimum order is required.
DISTRIBUTOR DISCOUNT PRICE LIST HERE
Joint Sealant Application Notes