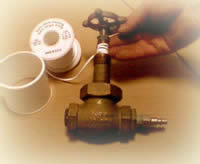 The extruded PTFE tape core (axially oriented) is radially reinforced for improved strength and shread resistance. It is medium density (approx. 1.6 s.g) yet highly pliable, to ensure good compression around the valve stem.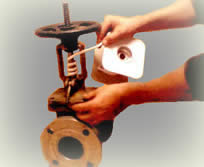 It has a full pH Range of 0 to 14 (except for fluorine and molten alkali metals), and it is fully compatible with petroleum products. The temperature range is -450 to 500F, allowing use in a wide variety of environments. Spools are generic labeled (Phillips' name is not on the spool) to protect your marketing efforts. No minimum order is required.
Prices listed below are subject to change. Please contact us for ordering and availability information. Most items are in-stock.
| | |
| --- | --- |
| | Standard 5″ square spools |
| | | | |
| --- | --- | --- | --- |
| 3/32″ x 25′ | $6.97 | 3/32″ x 100′ | $27.97 |
| 3/32″ x 50′ | $13.97 | 5/32″ x 50′ | $27.97 |
| 5/32″ x 25′ | $13.97 | 7/32″ x 35′ | $27.97 |
| 7/32″ x 15′ | $13.97 | 9/32″ x 25′ | $27.97 |
| 9/32″ x 9′ | $13.97 | | |
Bulk Spools (on either 6″ or 8″ round spools)
| | |
| --- | --- |
| 3/32″ x 250′ | $68.60 |
| 3/32″ x 500′ | $124.60 |
| 5/32″ x 250′ | $138.60 |
| 5/32″ x 500′ | $250.60 |
| 7/32″ x 150′ | $138.60 |
| 7/32″ x 250′ | $222.60 |
| 9/32″ x 150′ | $152.60 |
| 9/32″ x 250′ | $250.60 |